12th National conference of Association Of Child Neurology
ChildNeurocon 2022, the 12th National conference of Association Of Child Neurology will be held at Ahmedabad on 25-27 February 2022. Details coming soon!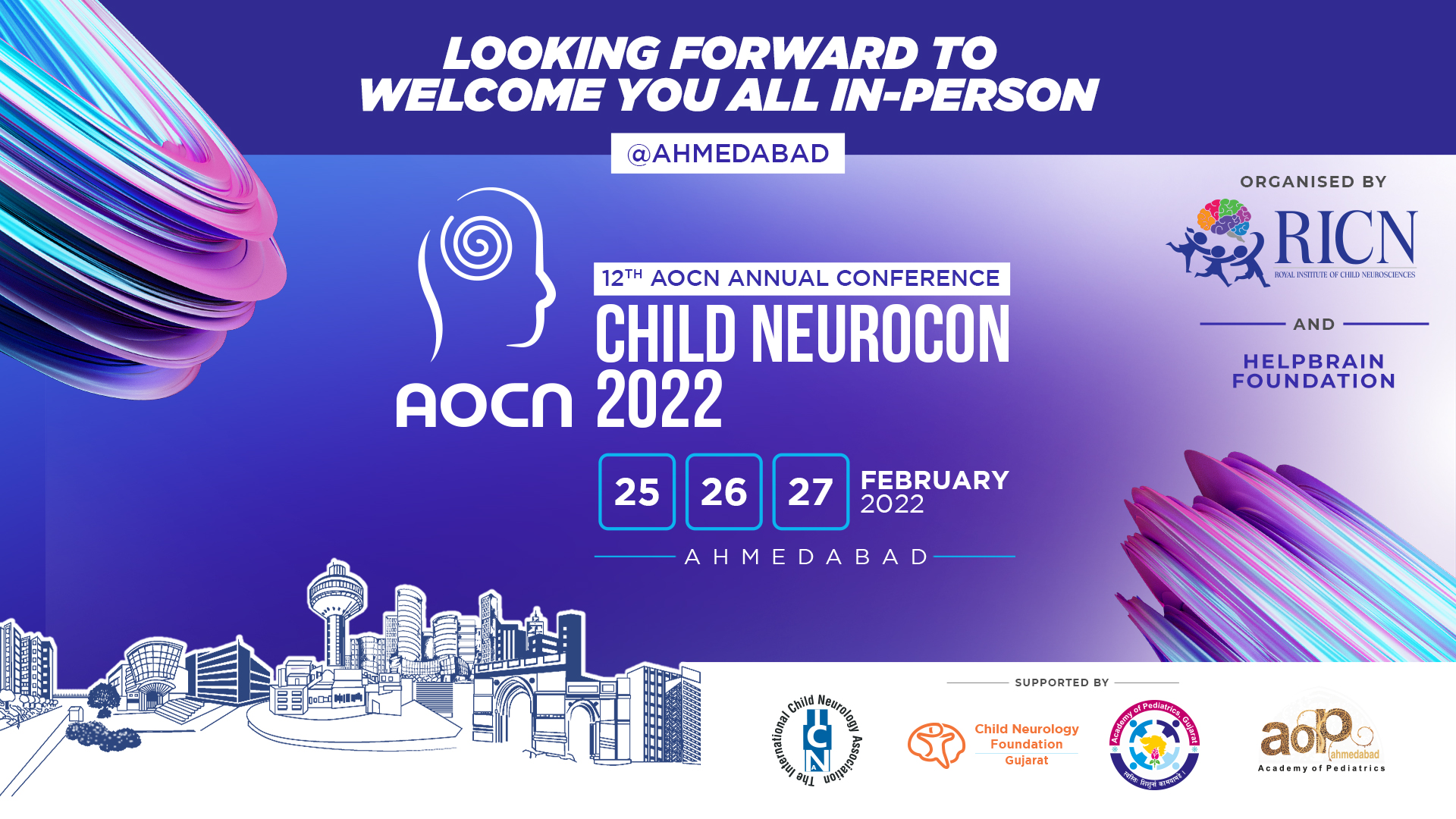 AOCN Back to School Wednesdays: AOCN Education Vertical
AOCN education vertical coordinates educational activities every Wednesday 8-9 PM IST called "AOCN Back to School Wednesdays".
1. First Wednesday of the month: The first Wednesday evening consists of interesting case discussion alternating with journal club/journal review. These sessions are presented by Resident Doctors and moderated by their Institute Faculty. Students are provided with appreciation certificate from AOCN for their participation.
a. In the interesting cases, completely worked up and undiagnosed cases despite extensive workup are discussed. This session is coordinated by Dr. Mini Sreedharan. Interested members may contact her for the same: drmini70@yahoo.com
b. In the session called Upto Date in Pediatric Neurology: Journal Club cum journal review, latest interesting Journal Article is presented by the Resident and moderated by their Institute Faculty. In the same session, a short review of recent publications pertaining to the theme are presented as Journal review. This session is coordinated by Dr. Biswaroop Chakrabarty. Interested members may contact him for the same : biswaroopchakrabarty@gmail.com
2. The second Wednesdayare fundamental lecture series for paediatricians which highlights the recent advances in Pediatric Neurology. Topics are chosen which pertains to Pediatrician. This session is coordinated by Dr. Gurpreet Kochar (gurpreet.ped@gmail.com)
3. The third Wednesdays are advanced lecture series for pediatric neurologists. These lectures are targeted at practising pediatric neurologists. This series is coordinated by Dr. Vishal Sondhi (vishalsondhi@gmail.com)
4. The fourth Wednesdaysis Allied speciality lecture series where experts on basic science and allied speciality related to pediatric Neurology are invited to speak on interesting topics. This session is coordinated by Dr. Rachana Dubey Gupta (rachnadube@gmail.com) and Dr Sangeeta Yoganathan (doc_ys@yahoo.co.in)
Annual Education vertical Plan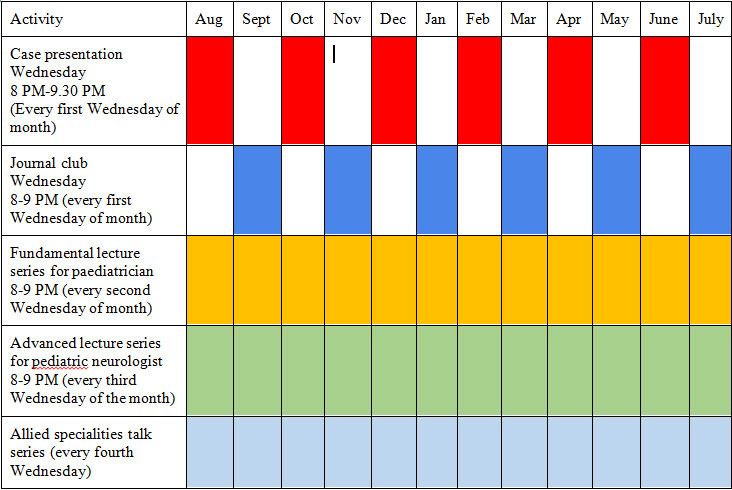 Courses/CME/workshop under aegis of AOCN
The education vertical of AOCN is pleased to invite applications from all AOCN members on conducting various educational online activities under the aegis of AOCN.
Guidelines
Any life member of AOCN can apply for conducting their online activities like courses/workshops/CME/conferences under the aegis of AOCN for the year 2021-2022. The application needs to be proposed by a minimum of two AOCN members who will be coordinators for the academic program.
AOCN will be happy to provide its online platform for the conduct of the activities along with secretarial help. The office secretary will be glad to help you coordinate with speakers and moderators for your program for the smooth conduct of the session.
AOCN will be happy to disseminate the information to all its members through email. It will post your course program on its Facebook and Twitter page for wide dissemination.
We look forward to supporting:

a. Courses - dedicated themes, intense learning. Organizers must provide some pre-reading material. Courses with in-built assignments, ongoing assessment, and end course assessment would be given priority. Courses must be planned meticulously to deliver the objectives of the course. The activities must have a clear learning objective and must identify the target audience. The online platform used by AOCN has breakout rooms where small group discussions can happen. Courses may be over multiples of 2 days, Usually Saturdays and sundays. AOCN will be able to provide certificates on completion of the course. The certificate issued to the participant will clearly state "participation" and NOT for acquiring the desired competency. AOCN does not want participants to claim to acquire competency after attending the said course. Certificates handed over to participants will have the signature of AOCN office bearers in addition to the course coordinator.
b. Webinar series - preferably theme-based, well-chosen speakers
c. Webinar series - preferably theme-based, well-chosen speakers

5. Each application in the format below needs to be addressed to the president/secretary AOCN in the format below and duly emailed to the AOCN secretariat at aocn.india@gmail.com.
6. The application will be reviewed by the president and secretary and referred to the educational vertical of AOCN at their discretion. The recommendation/suggestions will be conveyed to the course organizer within 2-3 weeks of receiving the application.
7. The education vertical will ensure that there are no areas of conflict of interest. It will ensure that scientific content is appropriate. It will also ensure that there are no clashes of the dates with other pre-planned AOCN activities. AOCN will have no financial or legal responsibility. For financially supported activities conducted under the aegis of AOCN, we would request a fee of 20% of the surplus amount This should ideally be sent to AOCN within 3 months of course completion.
8. Applications are best submitted three months in advance before the conduct of the course/CME/webinar series.
9. AOCN may appoint one executive member from AOCN in your program to serve as an observer on behalf of AOCN.
We look forward to promoting your programs so that your efforts, skills, experience, and knowledge can be spread to the entire child neurology fraternity of our and neighboring countries. It is also a great opportunity to develop teamwork partnerships.
We eagerly look forward to the active participation of all AOCN members.
Education Vertical (AOCN)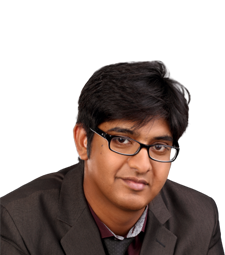 Dr Lokesh Saini
MD (Pediatrics), DM (Pediatric Neurology)
Contributor:
Dr Lokesh Saini, MD (Pediatrics), DM (Pediatric Neurology)
Assistant Professor
Department of Pediatrics
AIIMS, Jodhpur
Case:
A 9 month-old boy presented with global developmental delay (no head control, no cooing, no social smile),persistent stiffness of all four limbs which was non-progressive,and poor visual fixation noticed since early infancy.
He did not have seizures, auditory inattention, regression of milestones, asymmetry of paucity of limb movements,extrapyramidal movements or history of intermittent decompensation.
She was first-born to non-consanguineously married parents by a term, vaginal delivery with smooth perinatal transition.
The family history was negative for any neurological disease or familial conditions.
Anthropometric parameters were within normal limits. Head circumference was normal (43 cm).
There were no neurocutaneous markers, facial dysmorphism or congenital malformation, skin/hair/eye changes or any signs of micronutrient deficiency.
Neurological examination showed no social smile, no visual fixation, but an alerting response to sound was noted. Cranial nerve examination was negative for squint or bulbar involvement. He showed no head control with axial hypotonia and generalized appendicular spasticity with brisk muscle stretch reflexes and no asymmetry. Spine appeared unremarkable.
Rest of the clinical examination was unremarkable- organomegaly was absent.
Clinical differential diagnosesof a developmentally delayed child with spasticity and no apparent perinatal insult include:
Structural malformation (Lissencephaly, Polymicrogyria)
Metabolic disorder (arginase deficiency; late-onset disorders of amino acid metabolism- NKH, MSUD; mitochondrial disease; organic acidemias-biotindase deficiency; cerebral folate deficiency; Sjogren Larrson syndrome)
Genetic disease (early-onset forms of Hereditary spastic paraplegia, hypomyelinating/demyelinating leukodystrophy)
Hence, the first step in the diagnostic process is getting an MRI of the brain done. Neuroimaging in this patient (Figure 1 A-B) suggested a structural etiology (Porencephalic cysts).
Porencephalic cysts are seen in preterm infants as a sequela to periventricular hemorrhagic infarction related to germinal matrix hemorrhage.
Perinatal infection, perinatal arterial ischemic stroke, asphyxia, birth trauma, maternal warfarin use can result in porencephalic cysts in term as well as preterm infants.
Porencephalic cysts may occur after antenatal or neonatal parenchymal hemorrhagic infarction in the context of other genetic conditions such asainherited coagulopathy, or thrombophilia (most often heterozygosity for factor V Leiden mutation).
Pathogenic variants in COL4A1 result in a similar radiological picture.
In the absence of an apparent acquired etiology (uneventful pregnancy and perinatal period), inherited causes were considered. The imaging features (porencephalic cysts with microhemorrhages) pointed to a possibility of COL4A1-related disorder. Exome sequencing showed a heterozygous missense variation (pathogenic) in exon 45 of COL4A1 gene confirming the diagnosis. Parents tested negative for this variant.
COL4A1-related disorder is a genetic disorder due to a pathogenic variation in the COL4A1 gene. The COL4A1 gene encodes alpha chain of type IV collagen that forms integral part of basement membrane of cells and is responsible for the structural and functional integrity of basement membrane including that of the blood vessels. It is inherited in an autosomal dominant manner.
Presenting clinical manifestations are usually due to cerebral small-vessel disease, which include infantile hemiparesis, seizures, single or recurrent hemorrhagic strokes, ischemic stroke, and migraine later in life. These children can have systemic involvement in addition to CNS disease (outlined below).
Presence of porencephalic cysts with microhemorrhages in deep gray matter and periventricular and subcortical white matter, are the hallmark radiological features. Other imaging findings include diffuse periventricular leukoencephalopathy, lacunar infarcts, and dilated perivascular spaces.
In a child with consistent clinical features and neuroimaging features of porencephaly (without a contributing perinatal insult) with evidence of small vessel disease (microhemorrhages, infarcts) with or without a leukoencephalopathy, COL4A1-related disorder should be considered.
The spectrum of COL4A1-related disorders includes: small-vessel brain disease of varying severity in non-CNS organs which include: eye defects (retinal arterial tortuosity, Axenfeld-Rieger anomaly, cataract) and systemic findings (kidney involvement, muscle cramps, cerebral aneurysms, Raynaud phenomenon, cardiac arrhythmia, and hemolyticanemia).
There is no curative treatment available forCOL4A1-related disorders.
Comprehensive management of these children require the contribution of ophthalmology, nephrology and cardiology services.
Seizures are managed with anti-seizure medications, glaucoma is managed with topical medications, symptomatic arrhythmias with anti-arrhythmic medications. Surgery is offered for cataracts and large or symptomatic intracranial aneurysms.
Periodic brain imaging is suggested to monitor the size of aneurysm.
Avoidance of anticoagulant exposure and activities that involve an increased risk for head trauma is important to decrease the risk for intracerebral hemorrhage.
COL4A1-related disorders are inherited in an autosomal dominant manner.
At least 50% of individuals diagnosed with a COL4A1-related disorder have an affected parent. The rest are denovo mutations. Since this disorder has close to 100 percent penetrance, a clinically unaffected parent is veryunlikely to carry the mutation (hence the affected child would have got the pathogenic variation denovo.)
But since the age of clinical onset of this disorder and expressivity may be variable, it is recommended to test both parents for the mutation. In addition, careful review of parental history and revisiting their medical records, brain imaging by MRI, and ophthalmologic evaluation can help in identifying affected family members.
In case of an apparent de novo variant, the empiric recurrence risk to siblings is approximately 1% because of the theoretic possibility of parental germline mosaicism.
Figure 1A:
T2W axial MRI brain – Bilateral periventricular white matter paucity (L>R) with porencephalic cysts and ex-vacuo dilation of bilateral lateral ventricles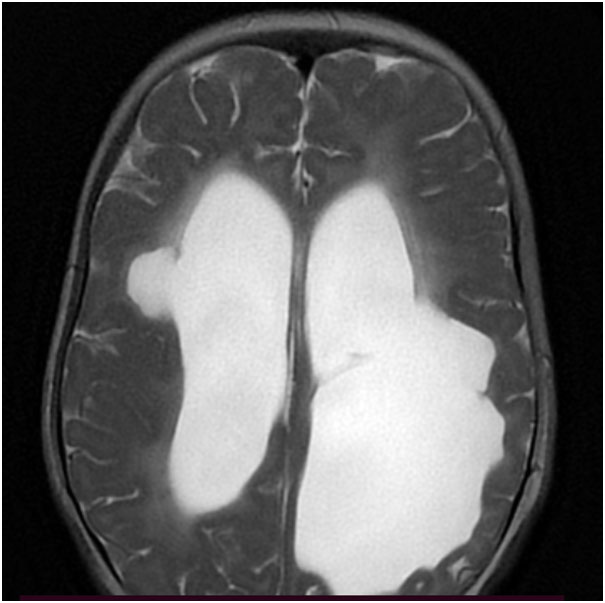 Figure 1B:
SWI images – blooming along the bilateral ventricular lining indicating hemorrhagic residue